Plastering is a step that is important in ensuring the strength of walls and giving them an aesthetic look. Although it looks quite simple, a small mistake during this process can even lead to huge cracks in walls. Without proper plastering, the paint does not stay long, and you have to spend a lot of money fixing any issue.
Visit TameerEasy Store to Purchase Quality Construction Items
If you have not given proper attention to plastering during the construction, there is a strong chance that you will suffer a lot. But you do not need to worry about it, as we will let you know all technicalities of plastering. What is plastering, its types, how is it carried out, and what techniques are involved in this process? We are going to talk about each of these steps so that you get an overall knowledge of the whole process.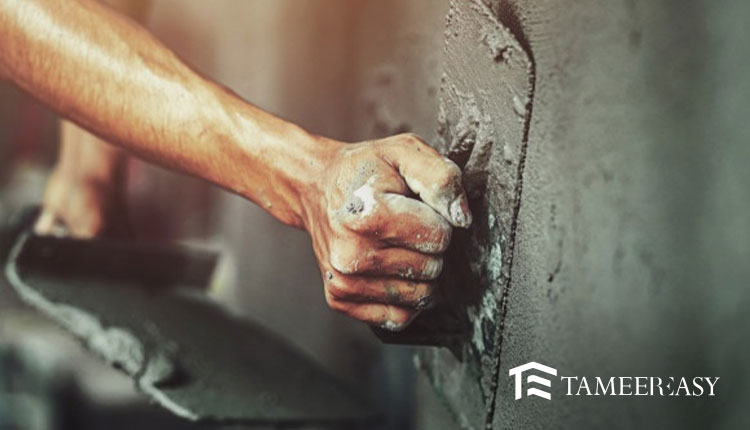 What is Plastering?
Plastering, commonly known as (پلستر), is a process which is carried out by using special material on the internal and external sides of walls. The plastering material is made by mixing cement and water, which in layman's terms is called (مسالہ) and in English, we call it Mortar.
Importance of Plastering in Construction
Plastering is important for walls as it provides a proper look to the exterior and interior walls. Let's have a look at some of the important points showing its importance:
Plastering helps the wall surface get even smooth, helping you paint it easily and apply wallpapers.
Plastering also provides insulation to walls.
A lot of decorated details, characters and shapes are also made through plastering.
As plastering provides a final surface, it prevents cracks and resists weather conditions.
Plaster also provides resistance to fire and moisture.
Plastering lessens noise pollution.
It also covers all the flaws that remain during the construction of walls and provides strength and durability.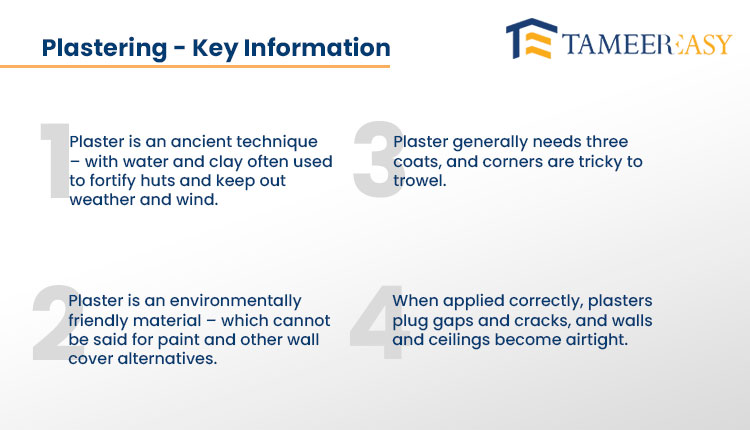 Different Types of Plastering Material
There are three different types of formulas used to make the plastering material. Based on this, we have three categories which are as follows:
Gypsum Plaster
This type uses gypsum material and water, which is applied to walls. Gypsum plaster is quite light in weight, fire resistant and easy to use. Generally, it is used on the top sides of ceilings and the interior surface of walls. It also provides amazing insulation effects.
Lime Plaster
In this type, lime is used to form a mixture, but this type is not used in house construction.
Cement Plaster
This is the most commonly used type, made by mixing cement, sand and water. The mixture is also known as mortar and is thought to be the most durable for outer surfaces.
Important Note: For walls, we use cement to water ratio of 1:4 or 1:5, and for ceilings, it is 1:3 or 1:4.
Best Techniques for Plastering
There are multiple techniques which are generally used in plastering. The most common one is the application of plaster manually on walls which, in layman's terms, is known as (چھاپ لگانا ). After the plastering material is applied to the walls following this manual process, a straight edge (گز) is used to level it. After that, the straight edge travels smoothly on the whole wall so that all bubbles are removed. In this way, we can avoid lagging and cracking. This method is thought to be the most durable for plaster walls.
Moreover, it is also important to remember that in some structures, you must make a double plaster coating on the exterior side. In such a situation, you follow a similar procedure as explained above. After completing, we used a steel towel to make the surface even and combing to make it rough. This way, the second coat creates a strong bond with the first one, Scratch Surface.
Similarly, some structures have grooves over them along with the elevations. While doing this type of plastering, you have to make the scratch surface of the first coat, and in the second coat, make sure to keep the thickness around 20-25 mm, which is used to make grooves. After that, it is the task of the designer to make grooves or other decoration styles in the cement layer.
Important Points to Consider While Plastering
The mixture of plastering material should be formed uniformly to make it consistent.
The mortar should not be too thick or thin, and use mortar as soon as it is made. Try to use it within three to four hours.
Before applying plaster on the wall, clean and dry the walls. You can also use water spray on them. But there should not be too much water on the walls.
If the wall has any holes, repair it before plastering.
Use pure sand in the mortar to avoid cracks in the walls.
Uniformly use the mortar on walls to make the level perfect.
Essential Safety Measures
Always wear gloves and safety glasses.
While applying plaster at heightened places, create a proper platform.
Closing Remarks
So here in this article, we have explained all the important aspects of plastering. After reading this piece, we are sure you will be in a better position to understand and monitor the whole process at your house. Still, if you are confused about the plastering process or any other construction work, contact us through our website, tameereasy.com.