While constructing any house, you must keep its surface level a few feet above the street, as per the law. In some cases, you end up buying a plot which is quite below the street level, and you have to put a lot of effort and money into filling the area to make it above the street level. The material which is used to heighten the surface level is called Filling material. It not only serves the purpose of increasing the surface level but also protects the house from the termite (دیمک).
Visit TameerEasy Store to Purchase Quality Construction Items
There are multiple types of filling materials used in this important construction step, which we will discuss in detail in this article. So if you are constructing a house and want to know about the earth-filling process, you must read this article.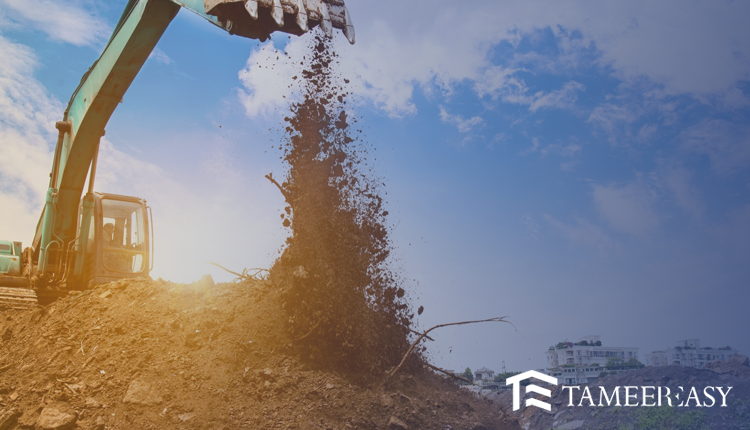 Types of Filling Material
First of all, it is important for you to know the different types of filling materials commonly used.
Soil
Loam [Mixture of Sand and Silt (گھسو)]
Sand
Let's discuss all these types one by one so that you can decide which is the best for your house:
Earth Filling Through Soil
This is the most common method, which is quite prevalent in construction. Here are a few easy steps which you can follow to heighten the level of your house using soil as the filling material:
First, add 8 to 9 inches of soil layers on the ground.
Sprinkle water on this layer and do the compaction.
Now add the soil layer of 7 to 7.5 inches and repeat the same above-mentioned process.
Keep on doing this unless you achieve the required surface level.
Earth Filling Using Loam (گھسو)
Loam is the type of soil which contains 60-70% sand and 30-40% soil. It is also extensively used to earth fill houses. Let's have a look at its procedure:
While using loam for earth filling, add a layer of 9 to 10 inches.
Sprinkle water on the layer. More water can be used in this process as loam is less likely to convert to slush.
Now do the compaction of the layer, which will be much easier in this method compared to soil earth filling.
Keep on repeating the process till you achieve the required surface level.
Earth Filling Using Sand
Earth filling using sand is not different from soil or loam, but there are a few differences in the sand as material. Sand is more saturated than other materials, meaning it has more capacity to absorb water. This is the prime reason that earth filling through sand requires less effort in compaction. It is also 15-20% more expensive than soil or loam, so it is not used frequently by builders.
Key Point: As sand does not allow the moisture to travel upwards so it protects your house from the termite (دیمک). You do not have to use any termite treatment, as sand earth-filling will give this issue an optimal solution.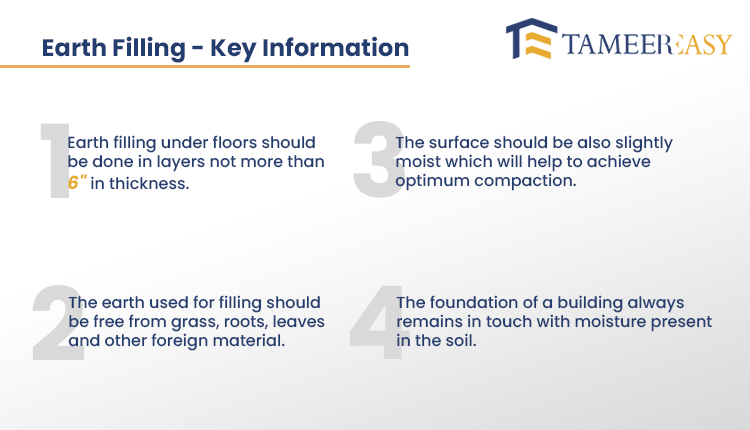 Important Points to Keep in Mind About Earth-Filling
Always avoid the big chunks or pieces of soil in the filling.
In soil earth filling, sprinkle the water with much care so it does not turn into mud.
After the compaction, send the soil sample to the laboratory to check the proctor value.
In soil earth filling, you have to achieve 90% density.
In loam earth filling, 90-95% density is considered ideal.
Core cutting and sand replacement tests can also be performed to check the compaction quality.
How to Carry Out Compaction
Commonly, manual methods are used to carry out compaction, which includes using the hand roller (دھرمٹ یعنی دھموسہ ).
Fuel or electricity-supported compactors and vibrators are also used to compact the surface.
Moreover, sending every layer to the laboratory is always impossible, so we can also check the compaction by pressing the shoe heel against the surface.
Final Thoughts
So here is a detailed overview of earth filling, and we are hopeful that up till now, you have got enough information about it. We have discussed all the earth extraction and filling methods, and you can use any of these to start the filling work at your house. Still, if you have any questions or queries related to earth-filling services or anything related to construction, you can visit our website, tameereasy.com, where our experts are available 24/7 to guide you.