Among all the issues civil structures face, seepage has always remained at the top, producing multiple potential threats to the building. Seepage not only deteriorates the overall look of the building but also causes a myriad of hazardous effects on health, including allergies, asthma, and other skin problems. Due to its severe impacts, it has almost become imperative for building owners to find a feasible solution to this problem that is readily available in waterproofing.
Visit TameerEasy Store to Purchase Quality Construction Items
In this article, we will be letting you know all about seepage. How it impacts buildings, and what effective waterproofing methods can help you to overcome this issue. Just scroll down the page to get all the relevant information.
What is Waterproofing, and Why is it Crucial?
It is a well-established fact that our atmosphere contains massive amounts of water in the form of rain, underground water, and vapours. Civil structures are highly vulnerable to this water content which can cause the weakening of bonds between concrete and steel, resulting in cracks in the building. Waterproofing is the most ideal treatment for seepage, which protects buildings from the water content, ultimately imparting more life to the structures. Different buildings have different sources of water and effecting places, based on which waterproofing companies make a comprehensive plan to start the overall process. Even atmospheric conditions of different cities vary, which urges the experts to plan the process differently. Waterproofing in Lahore may be different from one in Islamabad or another city.
Water Sources and Their Effects on Structures
Different types of water sources can cause seepage in the buildings resulting in bad smells in the houses, cracks on walls, and different respiratory and skin diseases. Let's have a look at some of the prominent water sources and their impacts on the buildings:
Natural Sources
Rain and underground water are the primary natural sources that give rise to the seepage in the buildings. During the rains, water falls on the roofs and walls, causing them to absorb it, further ruining the paint and concrete. Taking the example of Pakistan, a water-rich country, the seepage issue is present in its severe form. Water-proofing in Pakistan has become a must for all types of civil structures.
Non-Natural Sources
Water used in kitchens and washrooms is the prominent non-natural source that intensifies the issue of seepage. Another major reason is the leakage of drainage pipes which generally pass through the walls and floor. So, incorporating waterproofing services is crucial for protecting houses and other buildings.
Different Types of Waterproofing
As we have explained that there are different water sources causing seepage so their waterproofing treatment also varies. Let's have a look at different methods used frequently to counter the issue of seepage:
Waterproofing of Ground
DPC (Damp Proof Course) is the most popular and effective method used to cater to the issue of seepage. It is usually carried out using concrete, cementitious material, or bitumen.
Waterproofing of Walls
Walls are waterproofed using cementitious material, particularly cement-based coatings. Waterproofing of walls is done carefully so that if someone wants to apply tiles on it, it can be done easily.
Waterproofing of Roofs
The most crucial treatment is of roofs which requires a high level of expertise, and only the waterproofing companies adept at this should be allowed to do this. It is carried out using the bitumen coating, after which the polythene sheet is applied, ensuring that water does not enter the structure.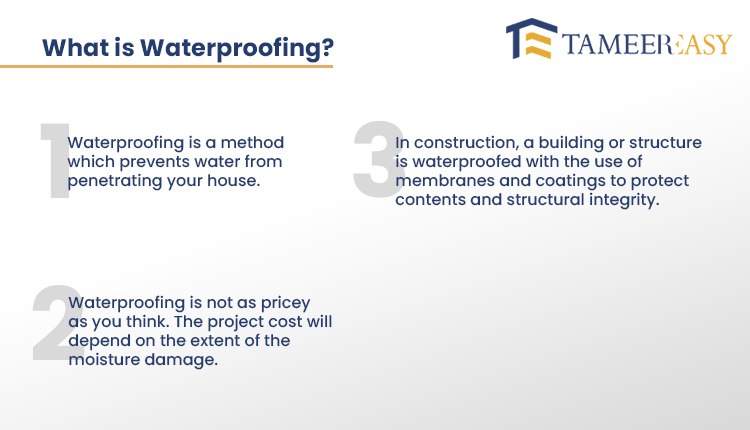 Ideal Time for Waterproofing
Waterproofing is wholly a technical procedure that should be performed at the perfect time for optimal results.
Floor: The waterproofing services should be incorporated while applying the DPC.
Walls: As soon as the plastering of the walls is done, waterproofing treatment should be applied.
Roof: Once the lintel process of roofs is completed, it is the ideal time to start waterproofing through bitumen.
Is the Bitumen Method The Most Effective One?
Although many advanced waterproofing methods exist, particularly cold bitumen, traditional hot bitumen is the most acceptable. It can eradicate the seepage in the best way possible.
Final Thoughts
In a nutshell, we can say that waterproofing is quite crucial for modern civil structures. It not only ensures the safety of your house but also prevents you from many skin and respiratory diseases. We have explained all the waterproofing types in this article, which you can use to treat all types of seepage. If you want to get more information related to any kind of construction-related work, visit our website, tameereasy.com.