Most buildings contain red bricks, which set them apart from other constructions and add to their aesthetic appeal. These "Gutka" or face bricks, created with unique methods and materials, are not your typical bricks. Depending on the construction needs, the type of material utilised and the crucial actions taken to make them lasting will vary. You can find these and other inquiries on using face bricks in various structures in this article.
Visit TameerEasy Store to Purchase Quality Construction Items
What is Facing Bricks/Gutka?
Facing Brick, usually called "Gutka," is a historic material frequently used in the Indo-Pak region for building facades. It is normally constructed from clay using the same techniques as standard bricks. The clay used to create face bricks/gutka, is salt-free, and the moulds differ slightly. Like conventional bricks, the clay is pressed into the moulds and baked.
Difference Between Facing Brick and Gutka
Facing bricks are typically 9 inches long, 4 inches wide, and 3 inches thick in size, just like regular bricks.
The "Gutka", on the other hand, come in various shapes or sizes. They have a length of 9 inches, a width of less than 2 inches, and a thickness of 1.5 inches. Depending on the architect's design, a face of 1.5 or 2 inches is considered.
Are There Different Types of Facing Bricks or Gutka
A unique quality shared by "Gutka" and facing bricks is their versatility in form and shape. You may have seen that they are available in various beautiful designs. Additionally, they are applied to parapets, corners, window or door projections, and edges.
Benefits of Using Face Bricks/Gutka
Gutka
It is more cost-effective and efficient to use "Gutka" as opposed to facing bricks.
You can alter it, based on various patterns or designs.
The "Gutka" is more resilient to abrasive weather and has a longer lifespan.
Face Bricks
On the other hand, we have already mentioned the size and substance of facing bricks.
Their aesthetic appeal is the main advantage. Some of Lahore's most well-known buildings, like Alhamra Arts Council, Kinnaird College, and Lahore College for Women University, may be recognised by their use of face bricks to improve the aesthetic appeal of the buildings.
The strength and durability of facing bricks are impressive, and they can survive extreme weather conditions.
Both benefit from being fire-resistant and insulated, shielding the building processes from outside temperature changes.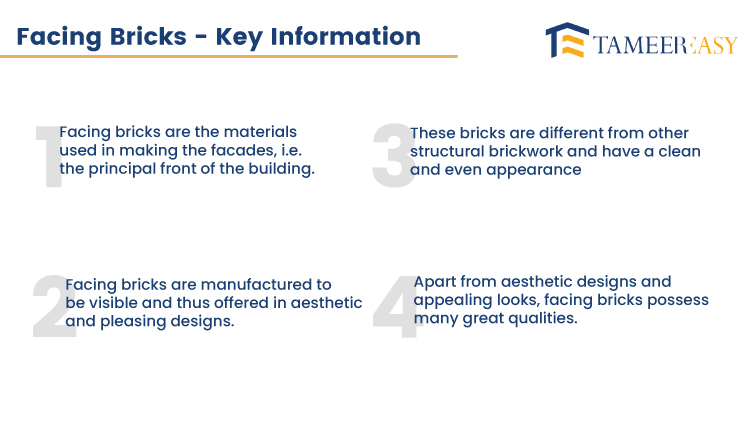 Drawbacks of Facing Brick or Gutka
There are no noteworthy drawbacks to mention in terms of the cons.
Periodic maintenance is required, which normally entails washing it with water and, if required, covering it with a clear water-repellent material.
The building remains safe during rain and other wet and humid conditions thanks to this coating's 8–10 year lifespan.
It keeps the structure safe by preventing water and moisture absorption.
Cost and Installation of Facing Bricks/Gutka
Facing Brick costs slightly more than standard bricks because of its larger weight and the need for professional labour during installation. Making sure the surface is clean and clear of all debris, dust, and contaminants is the first step in mending it. Remove any previous paint to ensure that the wall's surface is smooth.
The second stage marks the wall where we will lay facing brick. The mason can do this by cutting minor notches or using their language. This entails designing the placement of the cut parts, the alignment of the joints, and the preferred joint width, typically 10mm.
After that, make mortar by combining cement, sand, and water. To give it colour, use pigment like red or red oxide. The amount of water in the mortar produces a uniform consistency when mixing other ingredients. To ensure appropriate fixing, apply mortar by making a paste and pressing the Facing Bricks into it. Alignment is important here to maintain straight lines and prevent any surface irregularities.
Cleaning up the excess mortar that leaks out of the holes before it hardens is the final step in the finishing stage.
Final Thoughts
Readers, ideally, you now understand what (ordinary bricks) and face bricks are, as well as the available various types. Additionally, you might have learnt about the resources needed to produce them and their common locations of use. Please visit our website, tameereasy, if you still need more advice.