False ceiling, commonly known as the ceiling, is a key component of construction that gives an incredible look to your house. Although many people want to install it in their rooms and lounges, this is quite a technical process, so they often end up having flaws in false ceiling design or material. This is the prime reason that multiple problems are associated with ceiling installation.
Visit TameerEasy Store to Purchase Quality Construction Items
We are writing this article to guide you through the technical process of the false ceiling so that you can select the best design for your bedroom and other places in your house. Just scroll down the page to understand the technicalities of ceiling installation.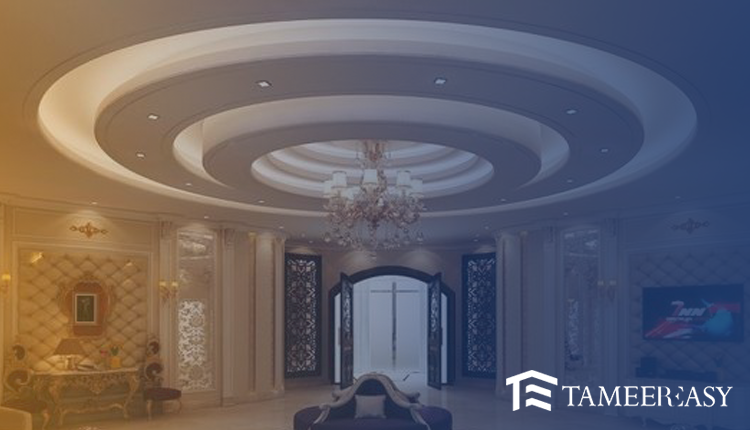 False Ceiling – Trend or Need?
The ceiling is called the false ceiling because it provides an artificial roof to your room, lounge, or any other place. It does not only protect your houses from seasonal effects but also imparts beauty to your building.
As far as this question is concerned, whether it is a trend or a need, we can say that due to its extensive advantages, it is more of a need than a trend. We will look at different types, their designs and their benefits to the building.
Types and Material of False Ceilings
Based on the material used in manufacturing, there are four different types of false ceilings:
It is the most economical type of ceiling that is hung using T and L shape sections.
DAMPA False Ceiling is metallic and perforated.
Plaster of Paris False Ceiling
It is the most commonly used false ceiling in Pakistan and other countries.
The most expensive type of false ceiling.
Key Points: DAMPA and wooden false ceilings are way too expensive, so they are not commonly used in houses. Plaster of Paris ceiling or Gypsum Board is the most common type used in houses.
How to Prepare Plaster of Paris False Ceiling?
Plaster of Paris is a type of material which can be changed or modified to any shape or design by applying a little moisture to it. The Plaster of Paris is mostly used because it is quite easy to make different designs per the structure of your room or lounge. Experts in this field make different room ceiling design by simply moulding the material as per the requirements of customers.
Applying Paint/Colour to False Ceiling
There is a misconception among people that paint or colours are applied to the ceiling while preparing it. But this is not the case; paint can be done anytime once you complete the making process. Maybe you have seen different new ceiling designs, like wooden shade applied after hanging. Even the lighting arrangements are made after the ceiling is hung on the roof.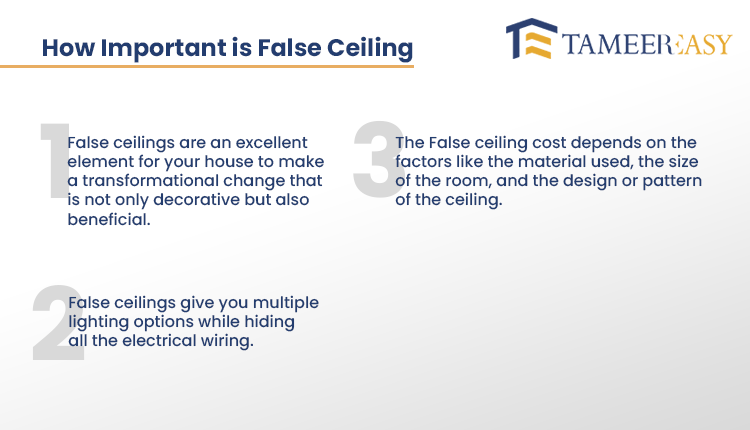 How to Hang the False Ceilings
Hanging the ceiling on the roof is quite a technical process. We will explain this important process step-wise so that you do not find it difficult to understand it.
First, you should drill your roof at specific points to install hooks.
A soft wire (MS wire) is used to suspend the planks of 2'x2' with the hooks.
To increase the thickness of the soft wire to protect it from weather effects, we wrap it using some fibre material, like the fibre of the banana tree.
Now you will have a suspension system ready to hang your ceiling structure easily.
Once the ceiling is set in its place, fibre tape should be applied at the joints which can be made smooth using sandpaper.
Advantages of False Ceiling
False ceiling acts as an excellent insulator for the rooms and lounges.
Due to its strong insulation capacity, the ceiling reduces the impact of extreme weather like sun heat.
The sound quality in the room improves if you use some bedroom ceiling design.
Air conditioners and heaters work more efficiently in a room where a ceiling has been used.
Closing Remarks
In a nutshell, we can say that a ceiling has a lot of benefits for your building. You can overcome the severe weather effects and give your rooms an incredible design. After reading this article, you can easily select a fancy or simple ceiling design for the hall and your room, ultimately giving an amazing look to it. If you still have any questions about the ceiling, you can contact us through our website, tameereasy.com where our experts are available to guide you.