Marble is extremely important in house building; it enhances the house's beauty and ensures strength. Marble is generally used on floors, washrooms, kitchens and the outer side of the building. But what if you spend so much money on it and get sub-standard results? This usually happens when your mason needs to know where to use the marble and where granite should be applied.
Visit TameerEasy Store to Purchase Quality Construction Items
What is marble & granite, and where and how should you apply them? But you do not need to worry about this, as we will let you know every piece of information about marble and granite. We will answer every question linked to this topic so you can complete this process quickly and get a beautiful and strong structure.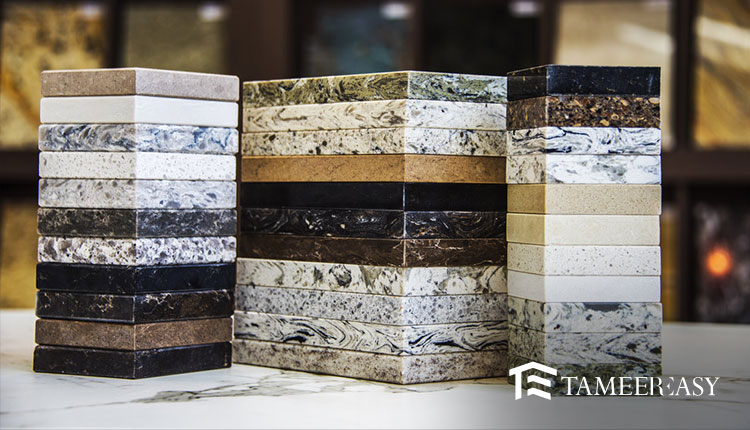 Difference Between Marble and Granite
Basically, marble and granite are both different forms of stones. The primary difference is that marble is more soft and beautiful than granite. On the other hand, granite is thought to be more solid and stiff. Both these stones are used in construction in Pakistan, and their application procedure is almost the same, which we will tell you in this article.
Application of Marble and Granite
Marble is commonly used for flooring, cluding, countertops and vanity. Besides this, it is also used to make sculptures, decorative elements, and fireplaces.
On the other hand, which is generally stronger than marble, it is used in weather-exposed places. We need some strong material for vanity or kitchen tops, so we use granite.
Benefits of Applying Marble/Granite
Marble/Granite gives an elegant and luxurious look to your building.
It increases the overall price of your house.
There are multiple colours available in marble which enhance its beauty.
Marble/Granite provides resistance to heat.
They do not get scratched easily.
In case of any dirt, you can clean them easily.
Challenges Faced During Marble/Granite Application
The most important part is fixing marble and granite. Usually, we have to set them on different levels and positions, like on the floor, walls or countertops, so we have to follow different techniques at every point. Different pieces often have different sizes and weights, so it is essential to make the fixing process so accurate that they should stay intact after getting applied.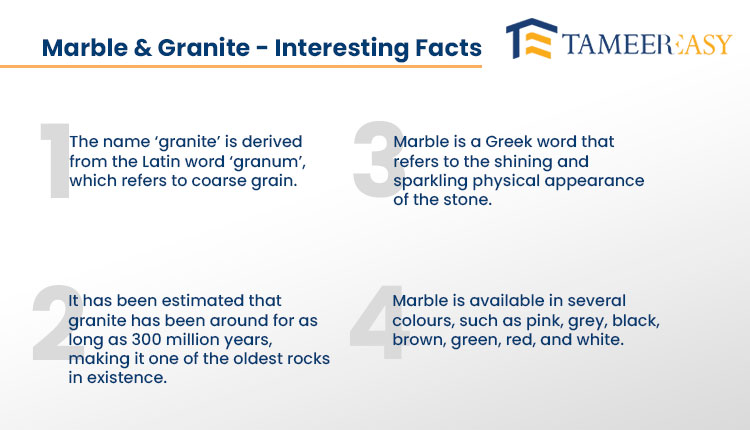 How to Apply Marble/Granite Tiles
Generally, we have two types, horizontal and vertical, and we will tell you about them separately.
Horizontal
Floor tiling falls in horizontal type, and here is the step-by-step procedure for it:
First, we roughen the surface where the marble/granite is to be applied.
Then we split one or one-and-a-half-inch layers of mortar to level the surface.
After that, we use a binding agent to apply marble on the countertop or floor.
The binding material is usually a mixture of cement, sand and acrylic, easily available in the market. You can use it by simply mixing water in it. The 20 Kg bag can be easily used for 6 to 7 square meters.
Besides this, if the mortar layer is old, you can use a layer of adhesive chemicals to ensure more strength.
The marble has gaps of a few millimetres, which should be filled with white cement of the relevant colour in a day.
You can also use polished marble for the floor, but usually, in Pakistan, we polish the marble after its application on the floor.
While using granite, which comes in polished form, we fill the joints the next day and make them clear.
Vertical
In vertical type, we do tiling on the walls and here is its method:
The surface level of your wall should be perfect, and it should be vertically plumb.
If the tile is of small size, we use a binding agent to fix it and then pass it through the grouting.
While applying big-size tiles, you must add a few extra items along with the binding material.
Generally, U-shaped clamps and rawal plugs are used to lock the tiles and prevent them from falling.
Marble used on walls comes in the polished form; you just have to fill joints with white cement after their application.
Important Points to Remember While Using Marble/Granite
Marble or granite should have a very precise cutting.
The cutting of marble should be at the right angle.
After applying marble, keep its joints safe from the soil until you fill them.
Use clamps on the marble from top to bottom and left to right to avoid undulation.
Closing Remarks
To conclude, we can say that until now, you have got enough information about marble and granite and their application on floors and walls. If you still have any queries about this process, you can contact us through our website, tameereasy.