House doors are an essential and significant component. Beautiful doors and windows sills enhance a home's dignity and elegance, reflecting the taste of the individual who built them. However, it is equally crucial to consider some fundamental factors while installing doors to provide the proper oversight and direction throughout other construction stages.
Visit TameerEasy Store to Purchase Quality Construction Items
The type of door appropriate for each room, the material selection, the intended design, and the significance of doors that open inward or outward are a few of these. We will thoroughly discuss all these important factors in this article for your better understanding.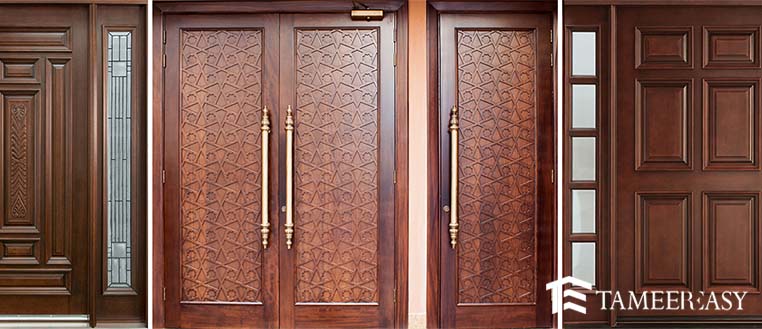 Best Material for Household Doors
Household doors are typically made of wood, primarily because of their aesthetic appeal. Another reason is that wood effectively absorbs sound; most significantly, there are many different types and pricing points. Inexpensive and costly doors are available, convenient for customers of various stripes.
Types of Wooden Doors
Wooden doors come in various styles, each with unique features and advantages.
1). Panel Doors
Panel doors are numerous panels attached to a wooden frame and are frequently used. Both raised, and flat panels are available.
2). Sliding Doors
A sliding door is another kind of door that slides along a track and gives access to the outside of a patio or deck.
3). Pocket Doors
Comparably, pocket doors are concealed when completely opened and are mounted in a small pocket which is generally invisible.
4). Carved Doors
Doors that have been intricately carved or engraved often have only decorative functions known as carved doors.
5). Solid Wood Doors
Solid wood doors, renowned for their durability, are constructed from a single piece of wood and set inside a wooden frame.
6). Louvred doors
Wooden slats are fixed on louvred doors to maintain privacy while allowing for ventilation.
7). Bifold Doors
Two panels are linked in this type to create bifold doors which can fold.
8). Flush Doors
Flush doors are frequently used for interior applications and are primarily hollow, with a hollow core filled with lightweight material.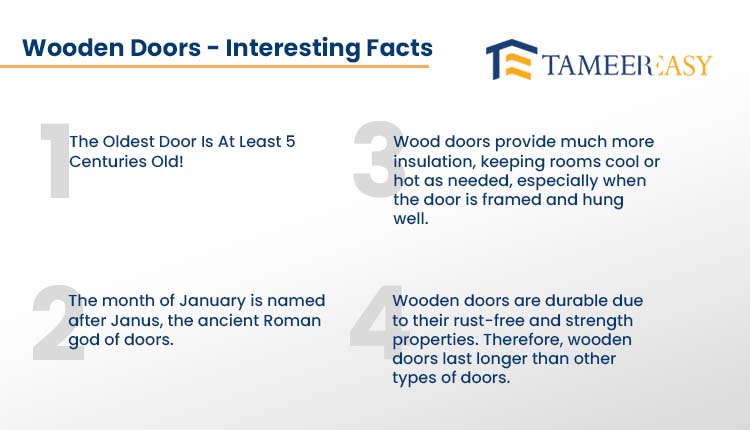 Door Types Commonly Used in Pakistan
In Pakistan, panel and solid wooden doors, as well as solid doors, are frequently utilised.
The flush doors, which come in both recessed flush and solid flush varieties, are another kind that is common here.
Engineered doors are a third form of door that is utilised in Pakistan. These doors have a wooden frame made of soft or light wood; they are finished with wood veneers on top for a polished appearance.
Solid Wooden Doors
As mentioned earlier, a single wood panel is often used to create solid wooden doors. They are frequently built from oak, teak, cherry, mahogany, cedar, maple, or other woods of a similar nature.
These larger planks are sturdy and resilient since they are correctly gauged and fastened inside hardwood frames. In comparison to other types of doors, solid wooden doors last longer.
They provide insulation and soundproofing and enhance a home's natural beauty. They can be altered to match our specific size needs. A large selection is available, giving various designs and styles that may be customised to suit individual likes and preferences.
Hollow Flush Doors
Hollow flush doors with a hollow core structure are frequently used in our area. They are constructed from lightweight materials like foam, cardboard, or honeycomb. On top of them is a veneer or laminate wood layer.
The availability of many laminate kinds, such as melamine and MDF (Medium Density Fiberboard), enables owners to select the finish or paint of their choice. Hollow flush doors are typically utilised inside homes, as in bedrooms and utility rooms.
They are more cost-effective and affordable than solid timber doors, which is an important quality of these doors. They are well-liked in Pakistan as a result.
Engineered Doors
Instead of a single piece of wood, engineered doors are created by fusing various components. They are framed with a wooden frame, and their core is solid wood. They are then coated with lamination and veneer. These doors are made using several methods, such as cross-bending and laminating.
One of their key advantages is their stability and resistance, especially resistance to splitting and cracking, which is less prevalent in solid hardwood doors. Interior locations are where engineered doors are most frequently employed.
They are also preferred for building contemporary homes. They are affordable and provide you with the freedom to alter the designs to suit your tastes.
Types of Wood Used to Make Doors in Pakistan
Various timber choices are offered in Pakistan, and their costs vary based on supply.
The hardwood teak, which has great resistance to deterioration and endurance, is frequently used in construction.
Walnut wood is also employed because it has distinctive patterns, is excellently durable, and works well with dark colour selections. The fact that it is simple to use is the most significant feature.
The other type of wood is called Sheesham, which is durable and has a distinctive reddish-brown colour. Due to its lovely patterns and texture, it is utilised in furniture.
Additionally, mango wood, a soft wood widely accessible in Pakistan, is a wonderful option for interior doors. It has good endurance and a lovely grain.
Diyar wood, which has light colours, is another type of wood used. It is a lovely alternative for interior doors because it is strong and has a lovely grain.
Additionally, Pakistan has access to several imported timbers, including Yellow Pine and Meranti, employed according to individual preferences and tastes.
Advantages and Disadvantages of Different Door Types
Solid Wood Doors
Let's start by talking about the benefits of solid wood. Solid wood is extremely long-lasting and durable. It adds value to the home and improves the aesthetics while providing excellent soundproofing and insulation. There are certain disadvantages, though. Solid wood doors are difficult to install since they are pricey and hefty. The wood has a danger of breaking if it has not been properly seasoned.
Hollow flush Doors
Hollow flush doors are comparatively lightweight and inexpensive, making them simple to install. They are less dependable, though; if they come into contact with moisture, they are susceptible to harm. Additionally, they offer less effective insulation and soundproofing, with fewer design and customisation options.
Engineered Doors
Engineered doors are recognised as the most stable, so let's take a closer look at them. They withstand warping and cracking very well. They are more affordable than solid wood doors and provide many design options. The fact that manufactured doors have few customising choices is a big drawback.
Closing Remarks
We hope you now better understand what wooden doors are and how they differ. You might be curious about the varieties of wood and supplies needed to build them. Please visit our website at tameereasy and contact us if you need more advice or have any inquiries about wooden doors.