In Pakistan, our windows or ventilators are only considered for air-crossing purposes. That is why many contractors need help to build something aesthetically, according to our preferences. To make windows or ventilators more beautiful and functional in construction, the stage of work that is done is called window sills. What are window sills, when and how are they installed, and where can they be used?
Visit TameerEasy Store to Purchase Quality Construction Items
These are a few important questions we will answer in this article. In construction, these are the small things that, when taken care of, enhance the beauty of your home without requiring any additional expenses.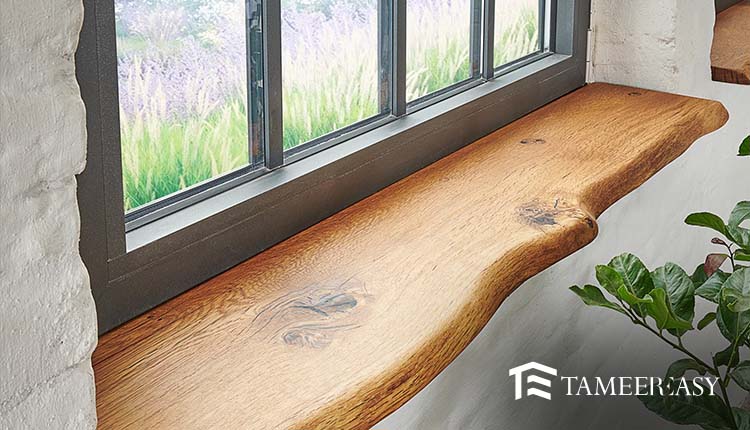 What is a Window Sill?
The window frame has a bottom part with one edge called the horizontal ledge, also known as the window sill. These are usually made of marble, granite, or tiles with a remarkable aesthetic impact.
Benefits of Making Window Sills
Window Sills prevent water damage to the window. For instance, when it rains outside, the water from the rain goes inside through the window sill, which damages the parts near the skirting. However, if you have a properly installed window sill beneath your window, it works as a water proofing and provides protection.
It increases energy efficiency. For example, if you have a properly installed window sill beneath your window, it makes the window air-tight, which increases the efficiency of heating or cooling devices.
The horizontal marble ledge or granite under the window sill can be used as a decorative element.
Window sills give you the option to get storage capacity. You can place small planters or other decorative elements on it.
Finally, the window sill works as a pack, so it provides minor insulation impact even in extreme weather conditions.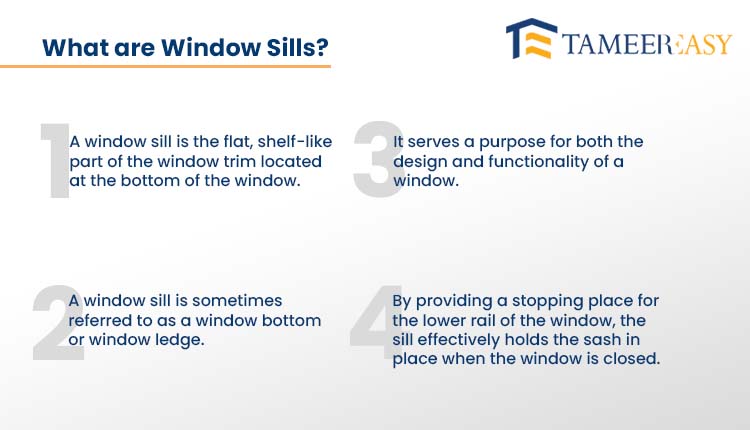 Drawbacks for not Installing Window Sills
Reverse its benefits to learning about the drawbacks of not installing window sills. For example, if there is no window sill, the risk of water damage increases, energy efficiency decreases, storage space is unavailable, and the window's aesthetic is compromised.
Best Time to Install Window Sills
During the construction process, when your grey structure and plaster are complete on all three sides of the window, then comes the stage where you fix the window sill.
Installation Procedure of Window Sills
First, it is necessary to note that the window sill is made in two steps. If we talk about outward-facing windows, the window sill usually comprises two pieces. One part of the window sill comes outwards, which we keep half an inch lower than the inside part.
For example, if our wall thickness is 10 inches after plastering, and we need to take out a nosing of ¾ inches on the outside and the same on the inside, then it means that our total thickness becomes 11.5 inches. We will attach a 6-inch piece to the outer side and a 5.5-inch bit to the inside part.
Now, if the outer side is half an inch below, then after fixing the aluminium frame, if water enters, this half-inch difference prevents water from entering inside. Similarly, if the inside side is half an inch raised from the outside, and you have installed a safety grill on it, then you can install the safety grill on the top of the inside side with a two ¼ inch offset from the wall.
In addition to this, we use materials like marble or granite for the window sill. Wood can also be installed inside.
Procedure for Ventilator
The process is the same as windows, but a single sill is generally used here. However, we slope it towards the outside. The same procedure will be used if an aluminium frame is installed in the ventilator. Its window sill will be made in two pieces, with the outside half being one inch lower and sloping 3mm towards the outside.
Preventive Measures to Follow While Installing Window Sills
All measurements should be perfectly accurate.
Control the margins of the left and right so that they align precisely with the fixed sill.
Try to use material of a good quality that is hard and long-lasting, with minimal ability to absorb moisture.
Ensure that any attachments made of steel, aluminium, or wood to the sill are secured using Rawl plugs or drilling into the board so they do not fall out when the window is removed later.
Pay attention to the slope and ensure that it is outward. Be very careful with the safety of the sill's fixation.
Closing Remarks
So here in this article, we have presented a brief overview of installing window sills. This process is quite crucial during construction and provides you with multiple benefits. If you still have any questions related to window sills, you can contact us through our website, tameereasy.