Planning and budgeting are essential aspects in the building industry to guarantee a successful project. The work of estimating the cost of building, however, can take time and effort. Enter TameerEasy is a ground-breaking online platform that provides a full range of construction cost calculators.
People may quickly enter their specifications into TameerEasy to get realistic cost estimates for various home parts, including the basement, ground floor, first floor, grey structure, finishing, electrical work, and plumbing and fittings. The advantages and features of TameerEasy's building calculators will now be discussed.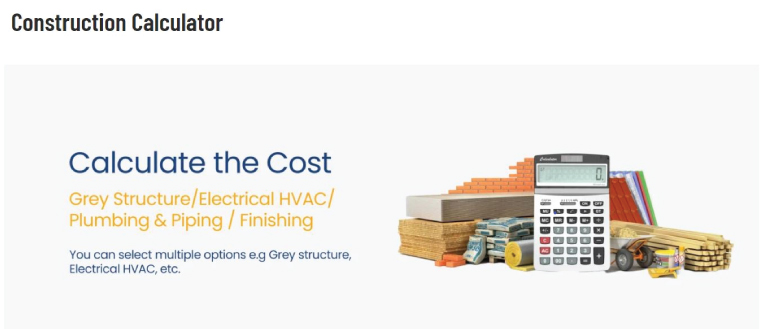 Advantages and Features of TameerEasy's Construction Cost Calculators
1). Easy-to-Use Interface
TameerEasy takes pleasure in offering a simple and user-friendly user interface. Anyone, regardless of technical ability, can easily use the platform. The straightforward design of construction cost calculators allows customers to enter their needs and obtain accurate cost estimates easily. TameerEasy streamlines the construction cost estimation process by doing away with labour-intensive manual calculations.
2). Customised Cost Estimation
TameerEasy's capacity to produce customised cost estimates is one of its main benefits. Users can define the area and the architectural aspects they want to be included in the creation. Users may more successfully plan their budgets thanks to the platform's consideration of these inputs and the independent generation of specific cost estimates for each building component. TameerEasy thoroughly analyses the construction costs for different parts of a house
3). Comprehensive Construction Breakdown
Users can get separate estimations for the grey structure, finishing work, electrical installations, plumbing, and fittings, as well as estimates for the basement, ground level, and first floor. Thanks to this degree of detail, users can analyse and modify their budget based on specific requirements.
4). Real-Time Updates
Market factors and changes in the pricing of materials might affect construction expenses. By offering real-time information, TameerEasy construction cost calculators keep up with these variations. Users receive precise cost estimates consistent with current pricing trends because the platform is consistently updated with the most recent market rates. Users can utilise this tool to plan their construction projects and make wise selections.
5). Cost Comparison and Optimization
Users of TameerEasy may compare expenses and optimise their construction plans thanks to its cost comparison and optimisation features. Users can assess the economic effects of their decisions by receiving precise estimates for various construction components. To maximise their budget while retaining the intended quality and functionality, they can consider other possibilities, such as modifying the area, changing the architectural requirements, or using new materials.
6). Time and Effort Savings
In the past, getting building cost estimates required contacting numerous architects, contractors, and suppliers, which might take time and effort. By combining all the relevant computations into one platform, TameerEasy streamlines the procedure. Users may rapidly produce precise estimates, saving time and work during the planning phase. Thanks to the simplified estimation procedure, users can concentrate more on other crucial facets of their construction projects.
Conclusion
By offering a cutting-edge online platform that simplifies the entire process, TameerEasy revolutionises construction cost estimation. TameerEasy's construction cost calculators equip people to efficiently plan and budget their projects with its user-friendly interface, customised cost estimating, thorough breakdowns, real-time updates, cost comparison capabilities, and time-saving features.
Users may make well-informed decisions, maximise their budgets, and confidently start building projects using TameerEasy's construction calculator. Construction cost estimation has never been more straightforward or precise than with TameerEasy.