Have you ever seen that the electric wiring of old houses remains maintained even after their demolishing? But nowadays, in many cases, copper wiring does not stay for a longer period of time and problems start happening even in new houses. Short circuits and many other wiring problems are quite frequent and cause serious threats to electric appliances, civil structures and even human lives.
Visit TameerEasy Store to Purchase Quality Construction Items
We are writing this article to give you a practical answer to this issue. After getting all this information, you will be able to install a wiring structure that will not only be technically fit but long-lasting as well. So you are at the right place if you want knowledge related to this topic.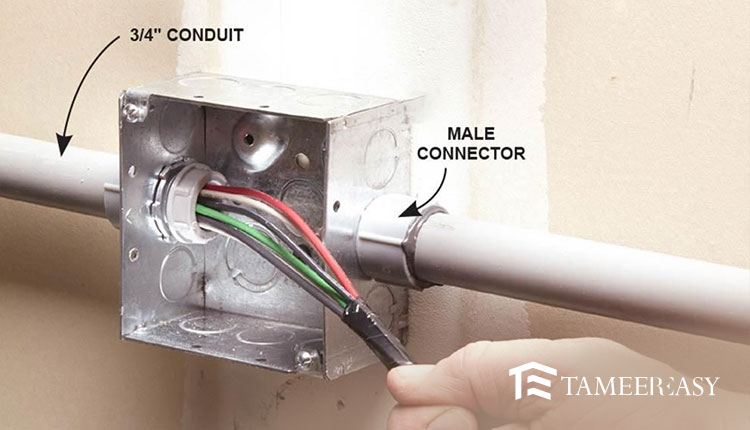 Introduction to Wiring
There are three basic components:
Then we have two major wiring types:
Insulated Wiring
Non-Insulated Wiring
Further, we have two types of wiring which are here:
Point Wiring: In this type, you do not take power directly from a specific point; rather we transfer the power to other points through some control switch.
Power Point Wiring: This is a type in which we extract power directly from the source without using any medium.
Cable Material and Types
Internationally, we have two standards to follow in the wiring:
Normally it is called 3/29, 7/29 or 7/42 in Pakistan.
As per the services, power cable could be either DC (Direct Current) or AC (Alternating Current) like fibre optic cable, TV cable, control cable and instrument cable.
Talking about the material of the cables, we have two basic components:
While installing the cables, people make a fundamental mistake. They put more emphasis on the conductor side but ignore the other critical part which is insulation. You should use a cable that has the best-grade voltage. So that in case of over-voltage, insulation can sustain it and prevent the short circuit. Moreover, the conductor should also have good material and size to ensure better current flow.
What is Conduit?
A conduit is a pipe that gives a path to cables in the floor, roof and walls. PVC, UPVC, HDP and flexible steel materials are used in conduits.
Steps to Take Before Wiring
Always use the services of an expert to carry out the wiring process in your house.
It should be installed as per the construction drawings.
In order to avoid open wiring or extensions, always set the layout of your furniture, electric appliance and other items before wiring.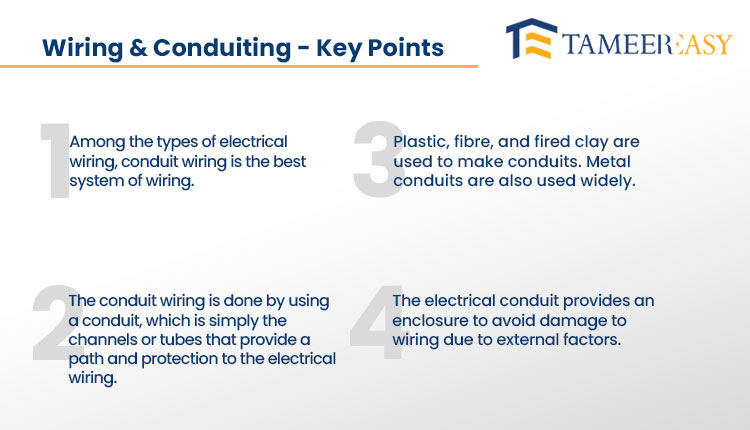 Wiring in Roofs
Here is a step-by-step guide while installing cables in roofs:
First of all, you have to do the conduiting at all places where you wish to install cables.
Connect one roof's conduit to the other room so that in case of a damaged conduit, you have the alternative option to connect it.
If you are constructing a multi-storey building, you should install a separate DB (Distribution Board) for every floor.
Connect all the DBs to separate conduits.
Use 2 inches conduit for every floor's DB up till the rooftop so that it can get the path.
In this way, if you will use solar panels in future, you will not have to go for open conduiting.
Wiring Process for Walls and Floor
Just like in the case of roof wiring, we complete the process of conduiting first.
As soon as the brickwork is completed in the walls, use conduits through chiselling.
Always do the conduiting before applying plaster. In this way, the finishing will not tamper.
In any case, if you have to do the chiselling after the application of plaster, try to use wire mesh otherwise, plaster can suffer cracks.
While in the floor wiring, use extra conduit for services provider or power. In this way, you will not have to face the issue of floor repair as it is quite an expensive thing to do.
Ideal Usage of Conduits
As per international standards, the cable-to-conduit ratio (fill ratio) is quite important for the whole wiring process. If you are using one cable in the conduit, then the fill ratio should be 53% and if there are two cables, then it should be around 31%.
In case of inaccurate percentages, people use lubricants to pull cables which is not the right approach as it could even cause a fire in the wires. So always try to use the perfect percentage to avoid any such unfortunate incident.
Moreover, try to use separate conduits for all the wirings. So that there comes no distortion due to the electromagnetic field of power cables.
Important Points to Keep in Mind During Wiring Process
If the conduit break during civil activity, try to get repair it at the same time to avoid any issues in the future.
In case of more than one bend in the conduit, use the junction box to avoid the application of unnecessary load and to secure the insulation.
If you are going to install Air Conditioners in your house, then try to do the conduiting at the place of AC outdoors to avoid open conduiting.
Closing Remarks
So this is a brief overview of the wiring process and by following these instructions, you can end up installing the best system at your house. In case you have any confusion related to the wiring process, you can contact us through our website tameereasy.com.